Palm oil has been a staple commodity throughout the history of Latin America (LatAm), with its commercial cultivation dating back to 1932. Over the years, the region has witnessed steady growth in oil palm production, driven by governmental efforts to develop rural areas and local demand for palm oil.
Today, Latin America is making sizable strides towards sustainable palm oil production, while solidifying its position in the global market. Here are three things you should know about it.
1. Small but mighty
Latin America may produce less palm oil in volume than Southeast Asia, but it still stands as the second-largest producing region globally.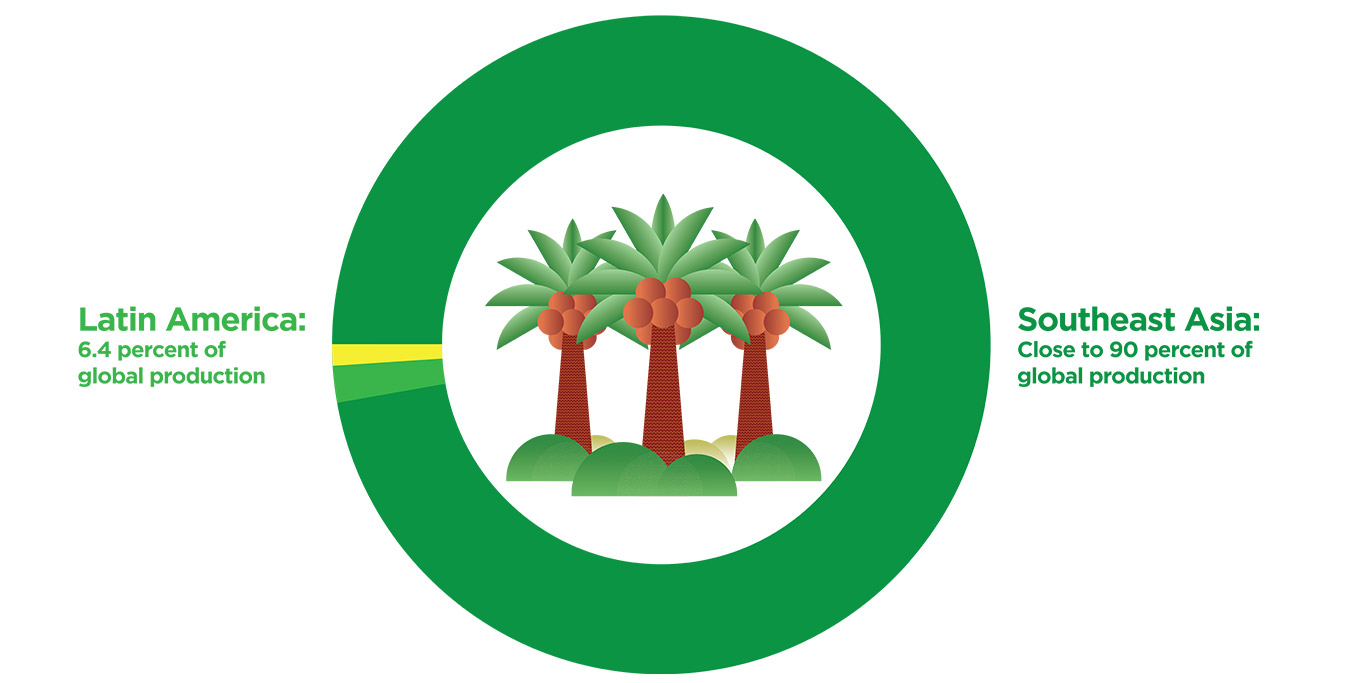 Many Latin American countries, including Colombia, Guatemala, Honduras, and Brazil, have emerged as top palm oil producers. Colombia, in particular, leads the region in production, recording substantial production and export revenue ($470 million in 2021).
Furthermore, oil palm cultivation in Latin America is seeing rapid expansion driven by surging global demand. For example, Guatemala, the largest palm oil exporter in Latin America, has increased the amount of land used for oil palm cultivation by ten percent annually for the last few years. Much of the expansion is driven by efforts to promote economic growth in rural areas.
Palm oil production in Latin American countries still has room for growth. Global palm oil production is set to rise from around 80 million tonnes in 2021 to 90 million tonnes in 2030. But further increase of cultivation areas in Southeast Asia is nearing a limit, with growth predicted to be driven by yield increases. As a result, industry experts anticipate growth in other regions, such as Latin America.
Despite its growth potential, Latin America faces challenges similar to those in Southeast Asia. This includes increasing productivity per hectare and complying with evolving sustainability regulations. These challenges are heightened by the fact that
Latin America's palm oil sector is mostly made of small and medium-sized producers
, unlike the large-scale plantations found in Southeast Asia, making it even more important for companies to work together with smallholder farmers to ensure their inclusion in sustainable practices and market access.
How are we supporting suppliers in LatAm?
One way we have been helping our partners in LatAm to increase the amount of oil per hectare they can produce is through sharing our high-yielding Dami Mas DxP seed with them.
2. Key export targets: Intra-LatAm & EU
The Latin American region consumes about three-quarters of what it produces. However, export and import volumes vary across countries in Latin America due to factors such as consumption level, production yield, and local regulations.
One such factor is the
biodiesel mandate in Colombia
. While Colombia produces the most palm oil in volume, "About half of the local consumption is guided towards the biodiesel," said Herbert Davila Rothman, GAR's Commercial Manager of LatAm. This makes Guatemala the biggest exporter instead.
Did you know?
Only two countries in LatAm have a biodiesel mandate at this point of time – Colombia and Brazil.
Similarly, "the reason why [other countries such as Guatemala, Honduras and Costa Rica] export so much is because their consumption is only for humans," he added.
Brazil and Mexico, who are net importer countries, drive regional export. To keep up with local demand, they also import palm oil from Southeast Asia.
Beyond the region, Latin America has been tapping into the mounting demand from global markets – in particular, the EU market. Almost all of their international exports are to Europe (see Figure 1 above).
The reason?
"The main thing for the EU, it's duty-free," said Rothman. Palm oil is covered under the Association Agreement between EU and Central America.
To carve out a niche for themselves in the EU supply chain, palm oil producers in Latin America made the strategic decision to focus on the export distribution of Crude Palm Oil (CPO). This deliberate choice sets them apart from peers in Southeast Asia who have shifted their focus to refined products, such as feed, oleochemicals, and biofuel in recent years.
3. In good stead to grow sustainably
With EU's changing landscape of regulations and policies, LatAm's need for robust, traceable, and sustainable supply chains becomes more evident. Fortunately, they are well-placed to produce palm oil responsibly.
Certification for sustainable palm oil is growing in popularity in the region, with the number of Roundtable of Sustainable Palm Oil (RSPO) certified growers doubling and an increase of total certified area to almost 470,000 ha from 2017 to 2021. Latin America also has the highest percentage of Certified Sustainable Palm Oil (27 percent) of all regions globally.
The LatAm industry has managed to disconnect deforestation from palm oil production by prioritising the use of previously cleared lands – such as pasturelands, croplands, and banana plantations. A recent study found that 79 percent of palm expansion in the region happened on previously deforested or converted land. The remaining 21 percent was on land with woody vegetation, including forests.
There is still work to be done, particularly in preventing expansion into forest ecosystems. We also have to be careful that oil palms do not displace other crops to forested frontier areas. Still, palm producers in the region are confident that track records of delinking deforestation to palm oil production put them in a good position to meet the new EU regulations.
Farmers first
It is never easy to penetrate a new market, particularly one that has decades of relationships with previous partners.
But as Rothman puts it, "GAR is a producer before becoming the world's exporter and refiner."
"GAR is a producer before becoming the world's exporter and refiner."
– Commercial Manager of LatAm, Herbert Davila Rothman
We were farmers first, and so speak the same language as our suppliers in LatAm. We know the challenges they face on the ground and share similar goals of maximising yields and having a sustainable transition to responsibly produced palm oil. This is one of our key advantages that we have over our competitors.
Our goal is not opportunistic trading, but to bring our LatAm partners on board our journey to feed and fuel the world sustainably.
"The plantations become our partners, and are integrated into our supply chain," said Gerardo Pla Otanez, General Manager of Europe & LatAm.
"We do not want to just buy cheap CPO and feed our refinery. We want to connect our partners to the best-playing market with complete transparency," he added.
—–
Our goal is to integrate our LatAm partners into our supply chain and connect them to the global market by tapping on our years of expertise as one of the biggest sustainable palm oil producers, as well as our strong distribution capabilities.
If you are interested in working with us, drop us a message here. Alternatively, look out for the next blog in this series to learn more about our presence in LatAm.
—–
1 Information retrieved from: www.expertmarketresearch.com
2 Information retrieved from: www.worldagriculturalproduction.com